Bolliver's Fine Food, Confections, & Artisanal Chocolates
story & photos by Ree Slocum
Many coastal folks know Robert Goleman as a fourth-generation Fort Bragger who has been, among many other things, a singer and a magician, best known for his magic troupe, The Fabulous Blendos. Robert also had a green thumb and developed a world-class plant collection featuring carnivorous plants and orchids, which he propagated and sold through his nursery, Hortus Botanicus, until it closed in 2008.
A modern-day Renaissance man, Robert also had a life-long love of creating food. He says, "I started cooking when I was five or six and got my first cookbook when I was in first grade . . . In my family, people were baking all around me. I even cooked by myself. It was a freer time when kids could do things like that." Through this experience, he cultivated the ability to pay attention to details and outcomes, becoming attuned to cause and effect. Robert united his loves of cooking, baking, and making chocolate and launched Bolliver's in 2012. It quickly became a Mendocino County favorite.
"It took the first year of trial and error and making mistakes before I was producing the kind of chocolates I'm making now," Robert said. "Chocolate has been the greatest learning curve of all the food I make! There are so many factors to making it correctly—temperature and humidity to name a few. The temperature shouldn't be over 75 degrees, and humidity cannot be over 50 percent." He cautions, "Don't put chocolate in the refrigerator. It ruins the chocolate—makes it go out of temper, and you'll see the little grey dots on the surface. When you take it out of the 'fridge it'll start sweating, which will make it sticky." Loving fine chocolate, and Bolliver's in particular, the light bulb went off in my head, and I understood why I've had some delicious chocolates turn weird.
I was fascinated, watching Robert make some of his savory dishes one day and his fine, hand-crafted chocolates another at Chubby's Shared Use Kitchen in Fort Bragg. Robert has assistance making the gourmet meals, appetizers, side dishes and other decadent desserts, but he works solo to hand-craft his artisanal chocolates. And he loves the process. The Friday I walked into the shared kitchen to interview and photograph Robert at work with the chocolate, he was juggling a variety of processes: creating the strawberry balsamic reduction for his milk chocolate mice—because ". . . milk chocolate goes better with strawberry"; making and then filling the Faux Bordeaux cups with his own luscious butter cream recipe; and crafting and filling the Love Cups with his special caramel. The Bobble Bars and ever-popular Three Bite Caramels were filled and waiting to be sealed with dark chocolate bottoms.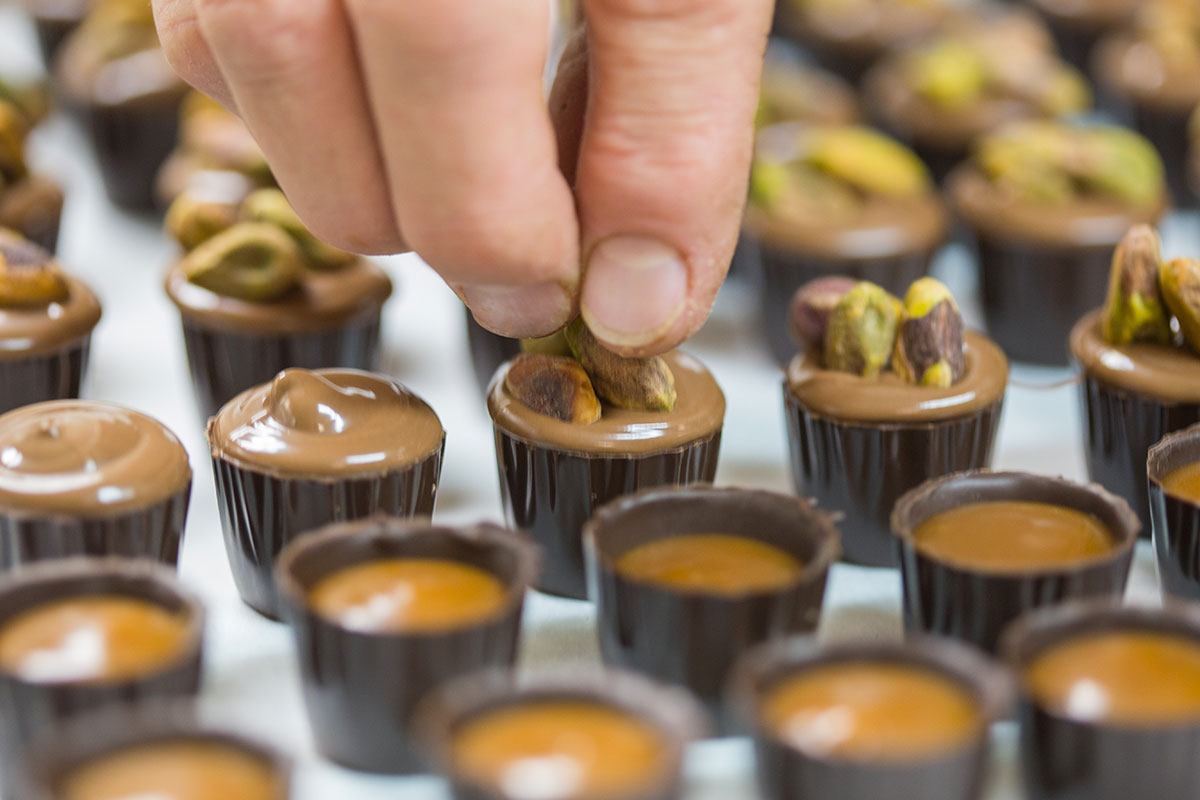 I marveled at the many details he followed. There were specific timings to be adhered to, and his attention to the flavors, textures, and colors of the varieties of chocolates and fillings needed to be precise to produce a complete sensory treat. "It's about the mouth-feel, with the dark chocolate snap and smoothness of the filling. It starts with the quality of chocolate, one that doesn't overpower the filling. The texture and flavors of each layer need to complement each other. And they need to be visually beautiful. All this combined will make a fine artisanal chocolate."
Let's follow the process through just one of his customers' favorite chocolates: The Faux Bordeaux Cups. Robert begins with a dark milk Guittard Chocolate—made in the US and considered one of the finest in the world—breaking it up and adding it to the hopper on the pre-set tempering machine. While the chocolate slowly melts and softly swirls in the machine, he washes the Belgian or Italian molds, then he dries and polishes them carefully so there are no scratches or residue to mar the mirror-like shine transferred to the chocolate cups. He measures, weighs, and creams the butter, dark Muscovado sugar, cream, touch of salt and smidge of espresso over heat until it reaches the desired temperature and consistency. When the time is right, the tempered chocolate is poured into the molds, gently vibrated on a special machine to remove air bubbles, and poured into the mold, creating a delicate cup to be filled with the butter cream.
When the cups are cool enough, they are released from the mold. Robert loads the butter cream into a disposable pastry bag and begins filling each cup, making sure to seal the sides as he fills them and leaving room for the final layer of dark chocolate. This last layer needs to seal the cup, since air or moisture leaking in will destroy the bonbon. The dark chocolate hardens quickly, so he can only fill 10 cups before adding the chocolate sprinkles. Once finished, the Faux Bordeaux delights are stored in an environment with low humidity and a temperature of 70 degrees. Imagine each of his chocolates going through a similar process!
Many of Robert's proprietary recipes have evolved from a combination of a known recipe and the development of his finely-tuned palate. His creative ideas and willingness to experiment coalesce to offer you something marvelous in your experience of his chocolates. Bolliver's chocolates will awaken your senses with compelling visual pleasures, the surprise of a new mouth-feel, and a melding of flavors and textures that will inspire your delight.
These exquisite morsels and other gourmet food offerings can be found at Harvest Market in Fort Bragg and at the Willits and Fort Bragg farmers markets. Because of the summer's heat, the chocolates are only available when the markets go inside for the winter months. Order online at www.Bollivers.com.